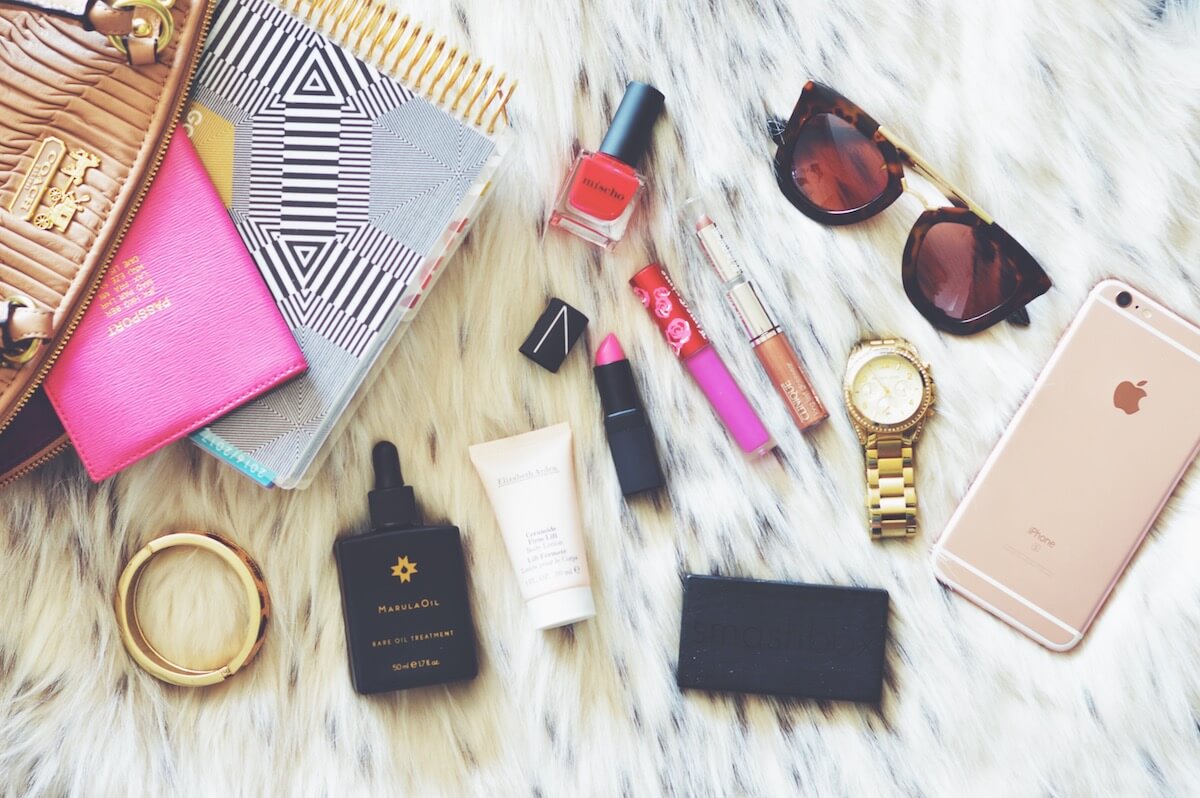 HOW TO START A LIFESTYLE BLOG IN LESS THAN 15 MINS!
**This post may contain affiliate links, which means I may receive a small commission, at no cost to you, if you make a purchase through a link**
Second to being asked how to make curly hair grow faster by far the most popular question I get asked is "how do I start a lifestyle blog?". Further still, how do I make it successful?! So I've decided to put together this quick guide to help aspiring, and maybe even established bloggers set up and grow their online brand. I make approximately $2000-3000 a month blogging. That's amazing supplemental income! You can do it too.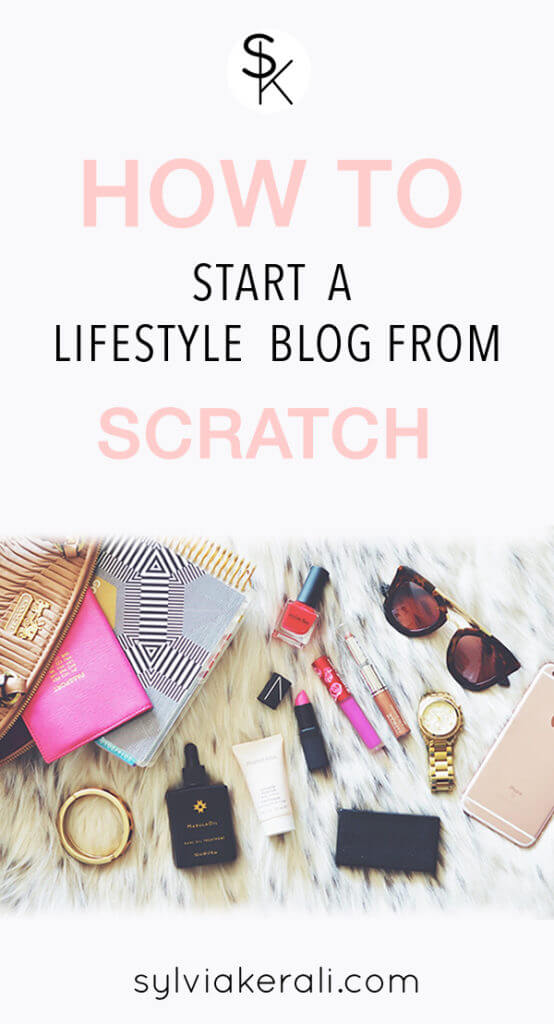 Why I Started A Blog
First let me explain how I became a blogger. Long ago back in 2003 I started a fashion and lifestyle blog called I Like Her Style!. I knew nothing about blogging and was really just looking for a creative outlet. I stumbled through creating a blog, figuring out step-by-step how to build a site, edit HTML code, add imagery etc. There was no YouTube back then so I had to figure a lot of stuff out by reading tech blogs.
That said, it was the best thing I could have done as it opened my eyes to the world of digital and gave me a whole new set of invaluable skills! The blog was moderately successful garnering a few awards and plenty of press but it became overwhelming and I wasn't sure what I wanted to do with the blog long term.
Fast forward to 2013 and I decided to give blogging another shot. This time I would focus on a topic dear to my heart with a focused strategy and clear goal. I've been natural pretty much my whole life but 12 years ago I decided to take my hair care to the next level. I saw nothing online that spoke to me, especially aesthetically. I knew I could fill a niche by presenting natural hair content in a fresh format. Sections like the Salon Directory helped the site to stand out.
In the coming articles in this series I will expand on how CurlsUnderstood.com grew from nothing but for now I'll discuss the logistics of getting your site up and running. That includes picking and registering your domain, choosing your hosting company and setting up your blogging platform.
Choose Your Site & Domain Name
This is by far the hardest step in the process but without finalizing a blog name you can't move forward with buying your domain (aka your .com). It's totally worth taking your time and being satisfied with your choice as the two of you will be together for a long time! It's probably more efficient for you to simultaneously check that your potential brand name is also available as a domain. No point falling in love with something if the .com is taken.
I settled on the brand name Curls Understood because it had my target keyword in it ("curls") and my mission was to help women understand their curls better. Once you have your name picked and you know it's available as a .com, you can buy your domain name at the same place you plan to host your site. Here's how…
Use The Domain Checker Below To Find An Available .com
Buy Your Domain & Pick A Hosting Company
I've been using Bluehost since my blog launched and had no visitors. Now Curls Understood has 200K page views a month and I still pay $7 a month. You can purchase your domain (.com) with a another company and then do your hosting (where your site lives) with Bluehost but Bluehost offers you a free domain with their hosting services starting at just $3.95 a month so definitely take advantage of this deal!
Here's an easy link for you to remember. You'll be re-directed to Bluehost through my affiliate link. Please read my disclosure for more info:

NOTE: I should have mentioned this earlier but I highly recommend owning your own domain and paying to host it independently on WordPress.org versus using a free service like Blogger. See the video above for a detailed explanation! Be sure to subscribe to my YouTube channel for more useful blogging tips!

Step 1

Navigate to Bluehost using this link. Once you're there click the big green "get started now" button. Select the $3.95 plan.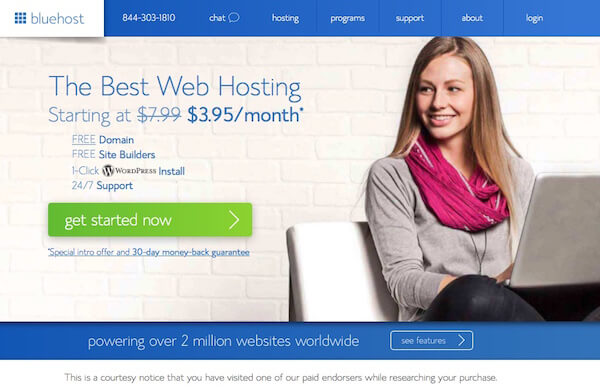 Step 2
Pick the plan you woud like. You get the cheapest monthly rate by selecting 36 months and paying upfront for this time frame. Don't worry though, they offer a money-back guarantee too.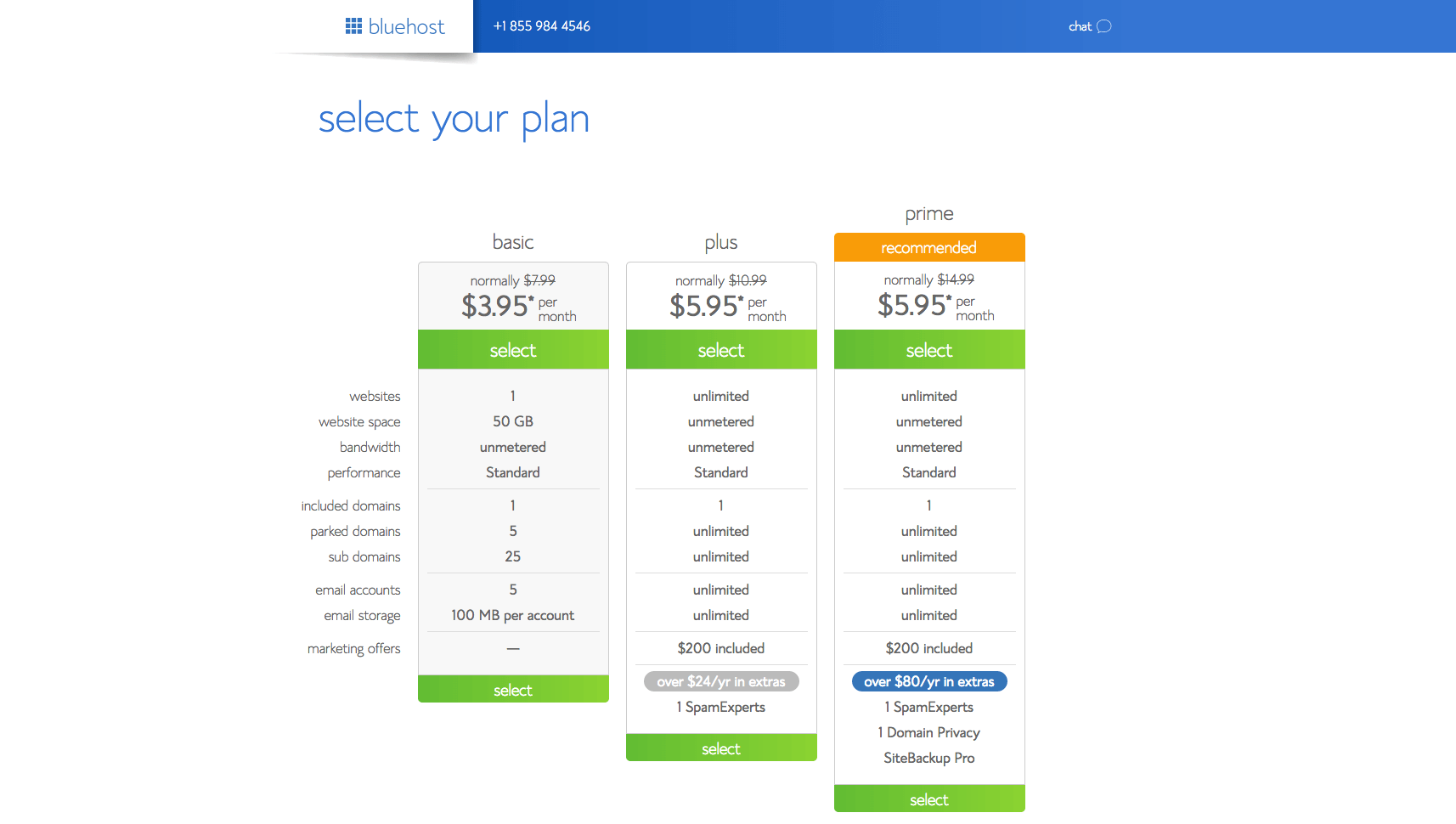 Step 3
Next enter your new domain name (or you can even transfer an existing one to Bluehost).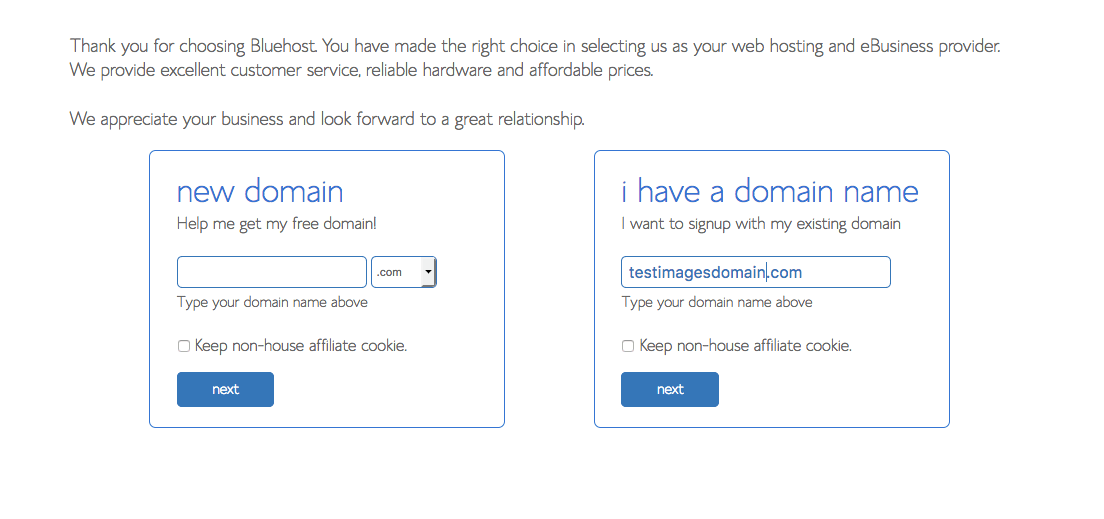 Step 4
Enter your personal and payment information and click "submit" to purchase. You don't have to purchase the extras like security or site back up unless you want to.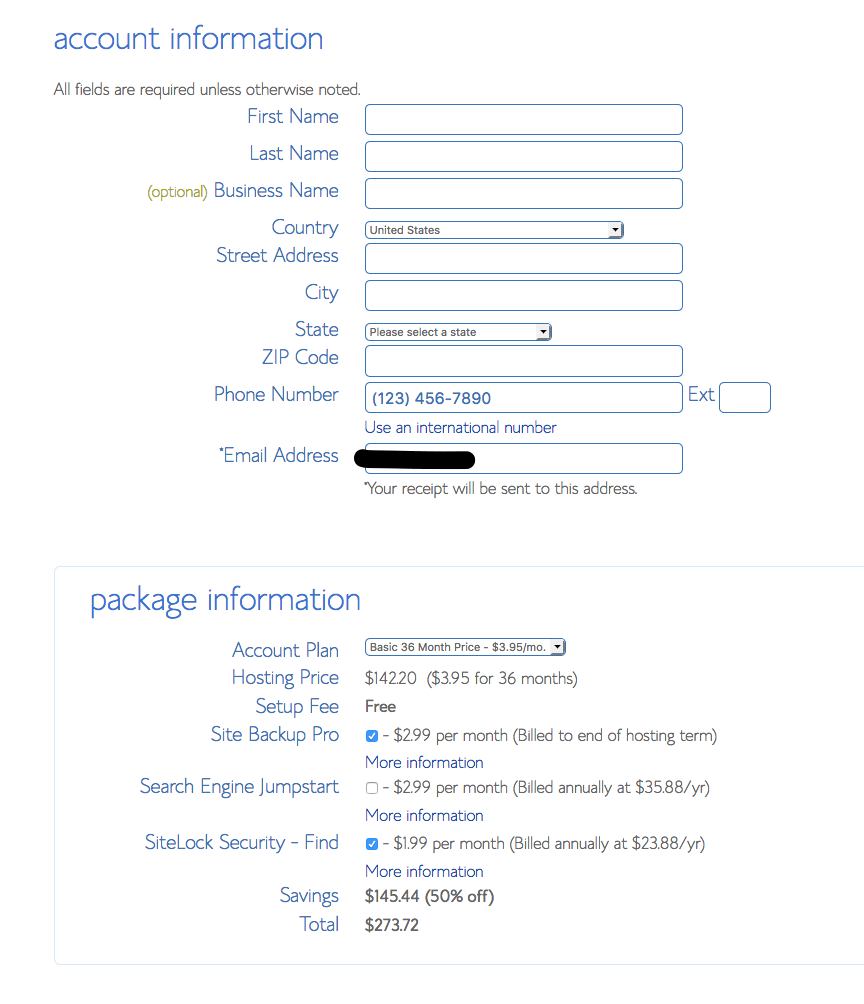 Step 5
Next create your password for your Bluehost account and go ahead and log in to your new account.

Now it's time to install WordPress. Bluehost makes it super easy to create a WordPress blog with just one click. See the final section below.
Set Up WordPress As Your Blogging Platform
Now that you have your domain name registered and your monthly hosting paid for you need to attach your site to a Content Management System (CMS) to actually create and manage your content. WordPress is by far the easiest blogging platform/CMS out there and Bluehost makes setting it up seamless. Just follow the next few steps below…
Step 6
Select a theme to get started but you can change this later to something else (see my tutorial on finding great themes).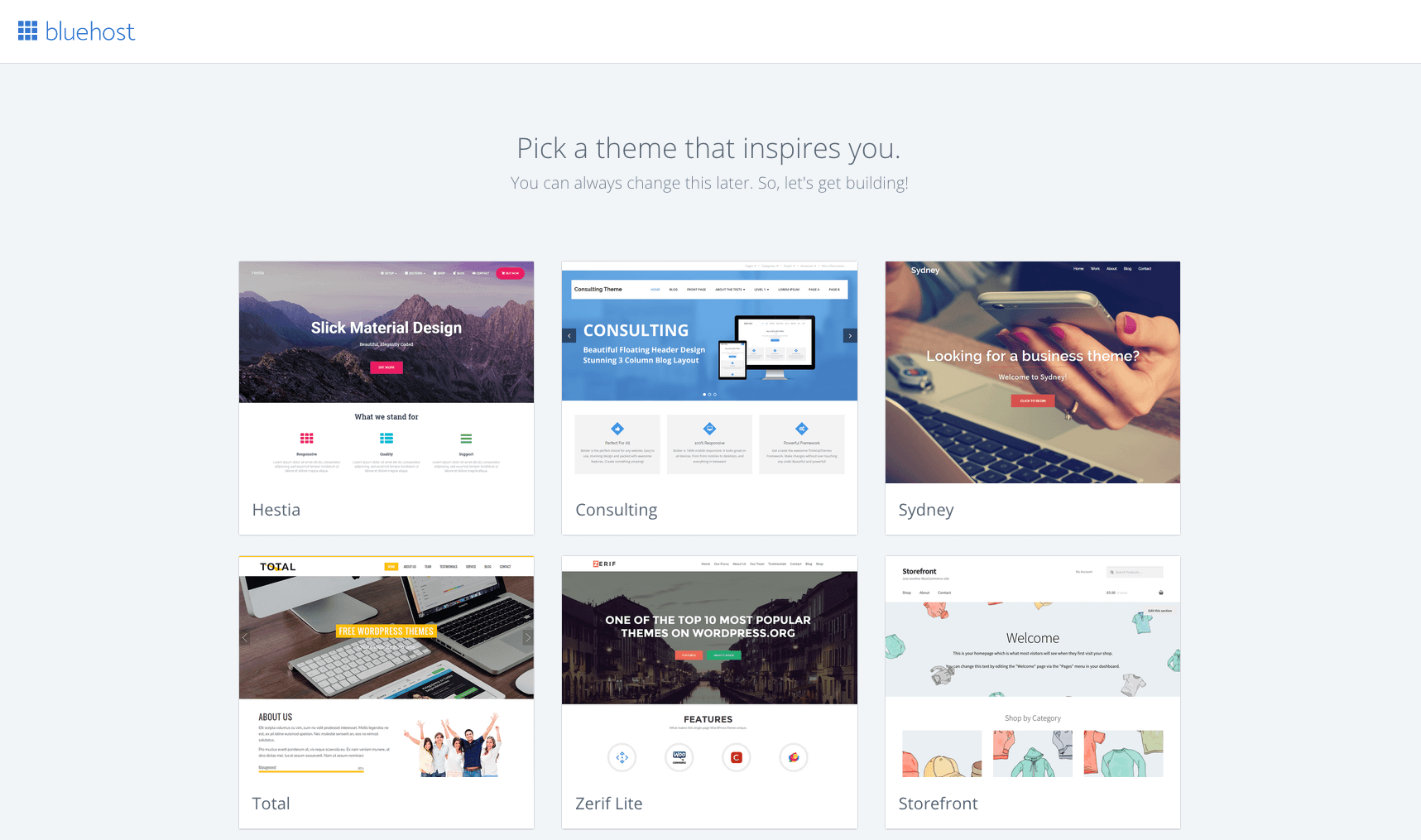 Step 7
Now you will be redirected directly into WordPress. Now that the installation is successful you can log into your new WordPress site by using the link: http://yourdomainname.com/wp-admin.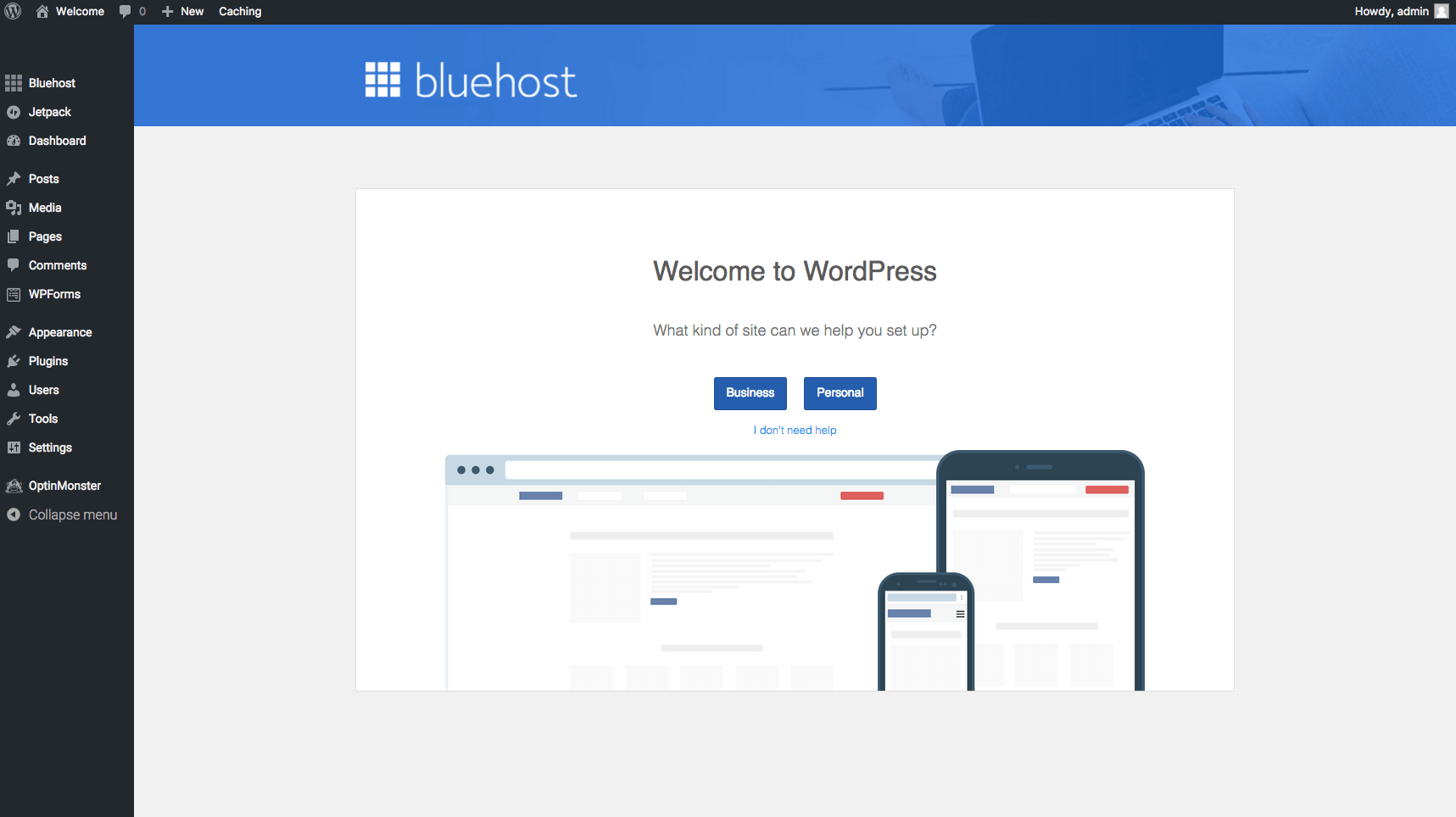 Now you can start working on making your blog look professional by selecting the best template. Though WordPress offers some free templates, in a follow-up article I will walk you through how and where to pick the best WordPress templates for your brand.
Active and aspiring bloggers join my private mastermind group on Facebook for daily tips, articles and support from fellow bloggers/influencers! Until next time feel free to leave questions below!