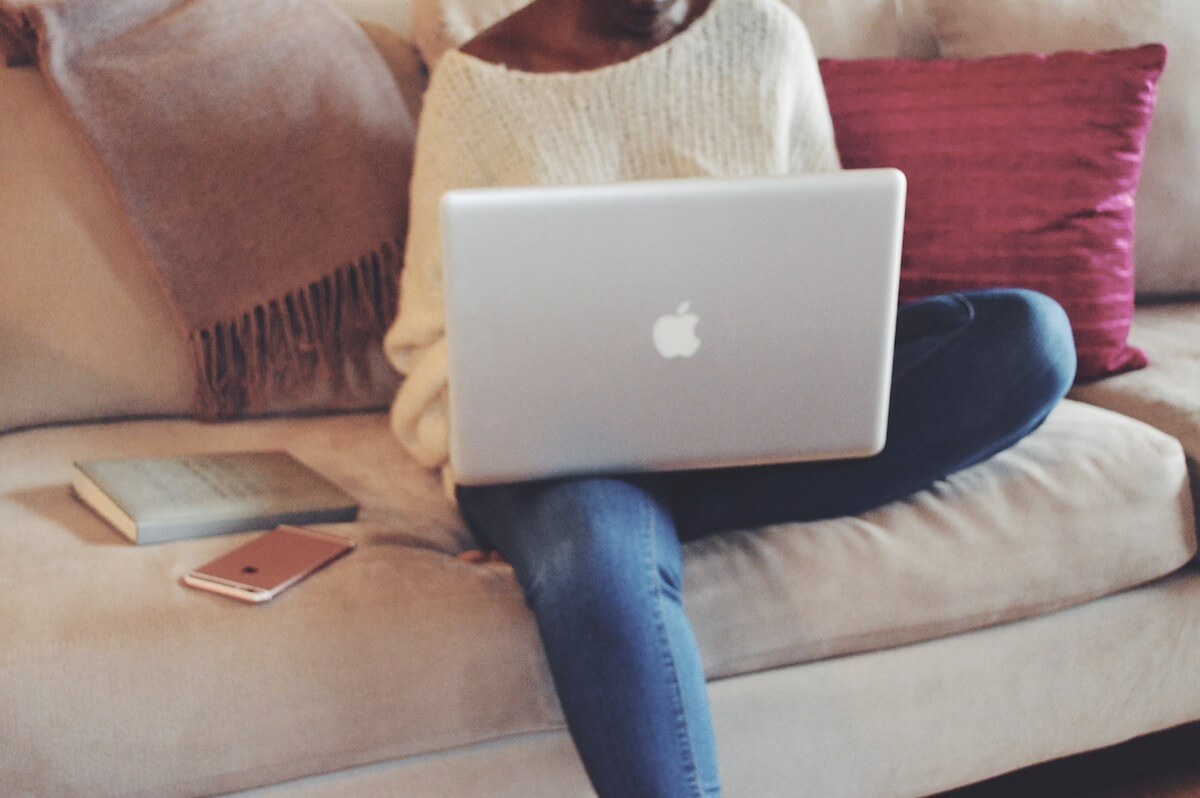 HOW TO FIND THE PERFECT THEME FOR YOUR BLOG
**This post may contain affiliate links, which means I may receive a small commission, at no cost to you, if you make a purchase through a link**
Last week I wrote an article on how to start a lifestyle blog. Specifically, how to buy and set up your site's domain name (.com), hosting and WordPress account. Now I want to move on to talking about some of the fun stuff! Want to know how to start a beauty, fashion and/or travel blog with a polished, professional and modern site theme? You're in the right place! I highly recommend investing around $50 to buy a theme you love and, more importantly, one that is professionally kept up-to-date by the designers you bought it from.
Before we jump in if you're wondering what your content will be once you get your theme up and running and how you're going to monetize your blog, then sign up for my *free* #idratherbepaid blogging bootcamp!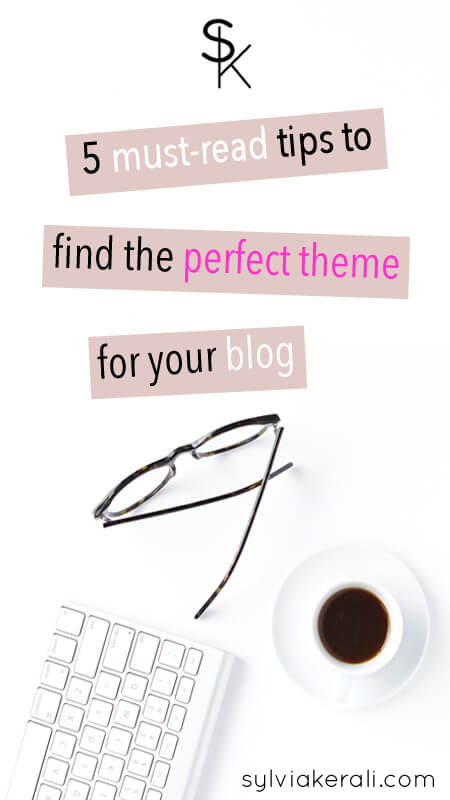 So let me start by actually defining what a theme is. Your site's theme (also known as template) is basically the look and feel of your site. It includes everything from the colors, fonts, layout etc. You want to find a theme that represents you and your brand perfectly. You also want it to speak to the type of readers you want to attract. Although you'll want to make sure it looks professional, deciding on the best theme is much more than how it looks. Here are some things to keep in mind when making your choice:
Pick A Theme With A White Background
Whether you want something fresh and modern or traditional and clean, pick a theme that has a white background. I've worked in digital content strategy and communications for 10+ years. Sites with white space are preferred by readers tremendously. Unlike other aspects of your site, the background of your site cannot be easily changed so be sure to get this right!
Ignore The Theme Demo Copy & Images
Many developers/designers that sell site themes usually provide live demos for you to get a good feel for how your site could look once live. Try and see beyond the demo content (images, video and copy) – you're obviously going to change these later. So if the theme demo has photos of musicians or animals, don't feel like it can't be used for your beauty/hair/travel blog. It's like buying a new home, look past the seller's decor!
Pick A Theme That Comes With Development Support
This is by far the most important tip. When buying a site theme ensure that it comes with some kind of support and/or buyer's forum. Usually the best developers/designers of themes offer some sort of community/support with each sale. They even provide free updates to the theme which is essential as WordPress is constantly updating too so your theme will need to keep up and stay compatible. Read the theme's reviews and see what previous buyers are saying about the support, ease of installation etc. If you are really unsatisfied with a Theme and/or its support ask for a refund from ThemeForest – ask them to put the money back on your card and not as credit to your account.
Let's Get You A Perfect Theme
Now that you know the basics, where do you go to scout a great theme demos? I LOVE, LOVE, LOVE Themeforest.net. This very theme you are on is from Themeforest. The theme for my eBook KnowThyCurls.com was from Themeforest. And of course CurlsUnderstood.com's theme is from Themeforest. I've been using them for personal projects for 5 years. They are one of the largest, if not the largest, community of designers, developers, creators etc.
You can visit Themeforest.net and browse their themes for free but in order to purchase a theme you'll have to create an account and add credit to it. Below are 5 steps to create your account and search hundreds of themes. Note: you can buy themes for other platforms such as Shopify, Tumblr and Blogger too.
Here's an easy link for you to remember. You'll be re-directed to Themeforest through my affiliate link. Please read my disclosure for more info:
Step 1
Visit Themeforest and create an account by clicking "Our Products". Follow the super easy steps to create your account. Once complete, you can log into your account and then in the same spot hover over your username and click "Add Credit".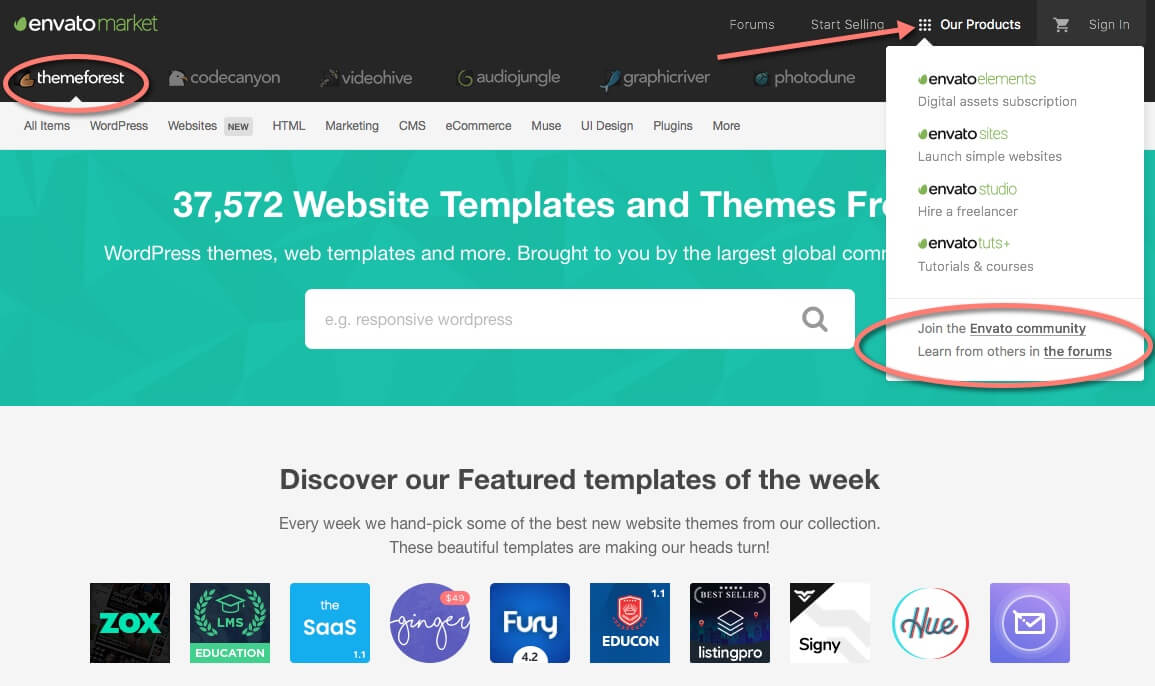 Step 2
Since I highly recommend using WordPress for your blog, here I show you how to search Themeforest for WordPress themes. As shown in the screenshot below, you can search WordPress themes by category. Don't feel like you have to search within your blog's category. You can find the perfect theme in ANY of these categories.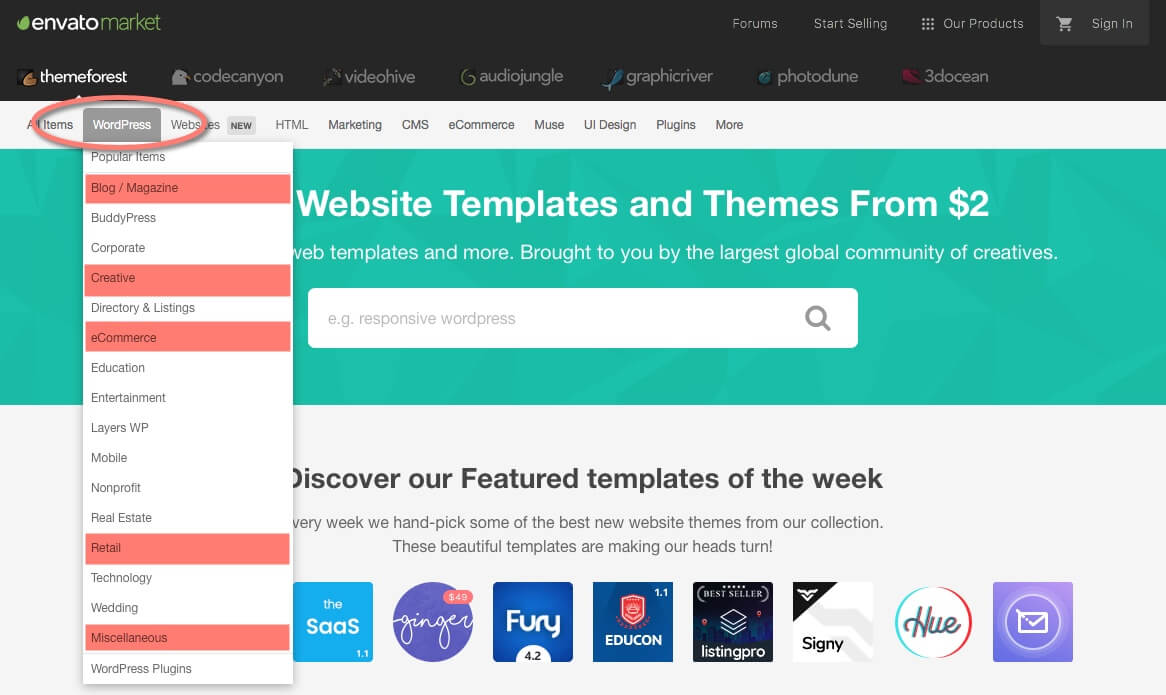 Step 3
You can even search Themeforest for themes with specific keywords. Just be sure that you don't fall in love with a theme that doesn't work for WordPress. You can use the filters in the left hand column to ensure you are only searching for WordPress themes.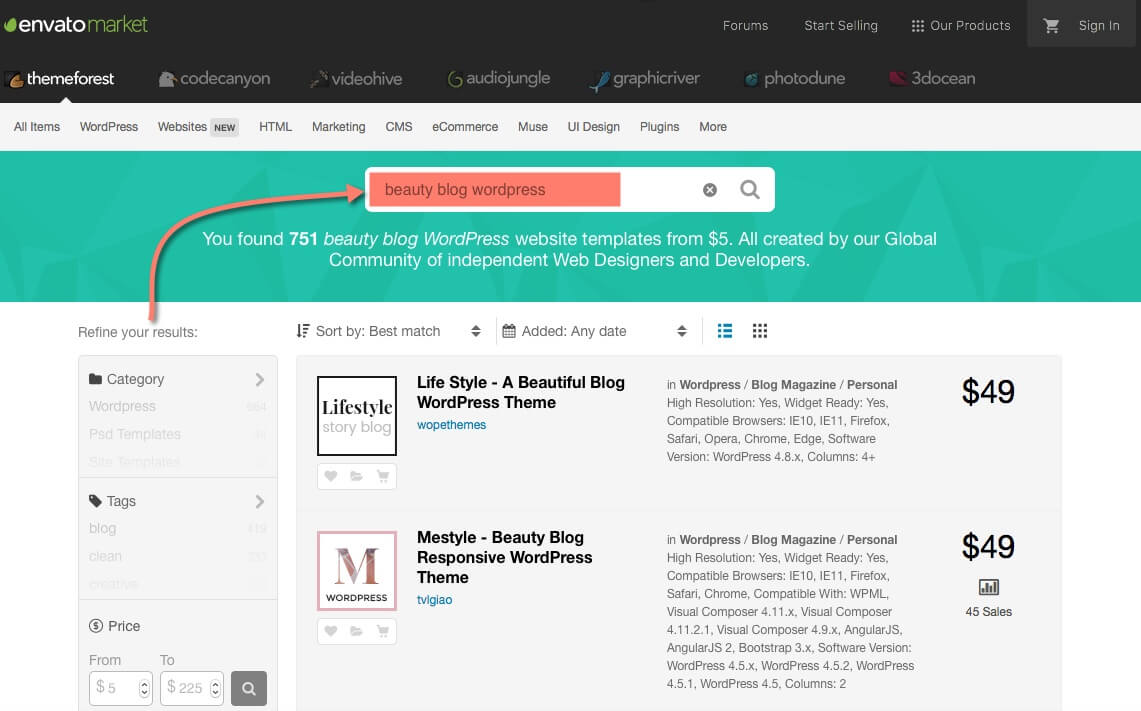 Step 4
Once you've found a theme you like, you can add it to your favorites, preview live demos of the theme in action and read the reviews to ensure the sellers produced a good theme and offer responsive support. Below you can see a seller's page for this theme.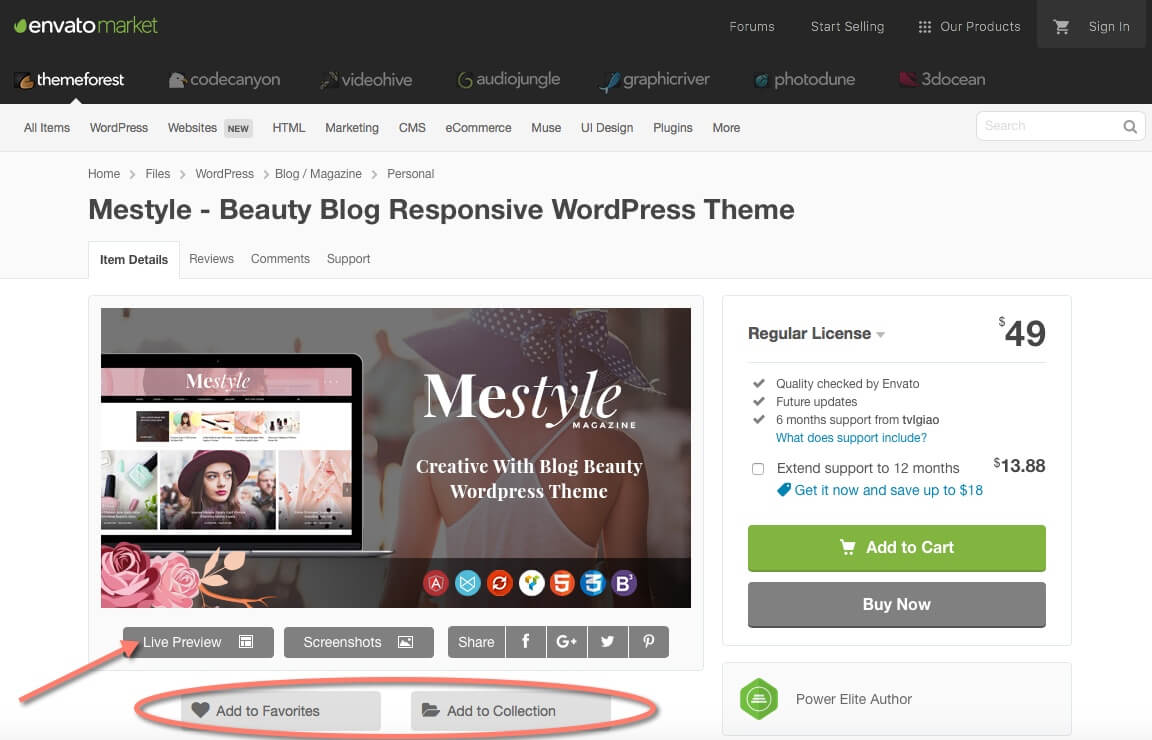 Step 5
When previewing a live demo (this one is called "MeStyle") be sure to click around as much as possible. Particularly pay attention to the homepage options, page layouts (contact us, about us, categories), article post layouts and make sure they can do everything you would want them to do if you have ideas beyond the basic. Also make sure your theme is responsive meaning the layout automatically "responds" and adjusts size to any device be it a smart phone, tablet or laptop. Once you've purchased the theme follow the installation instructions and leverage the support that comes with your theme purchase.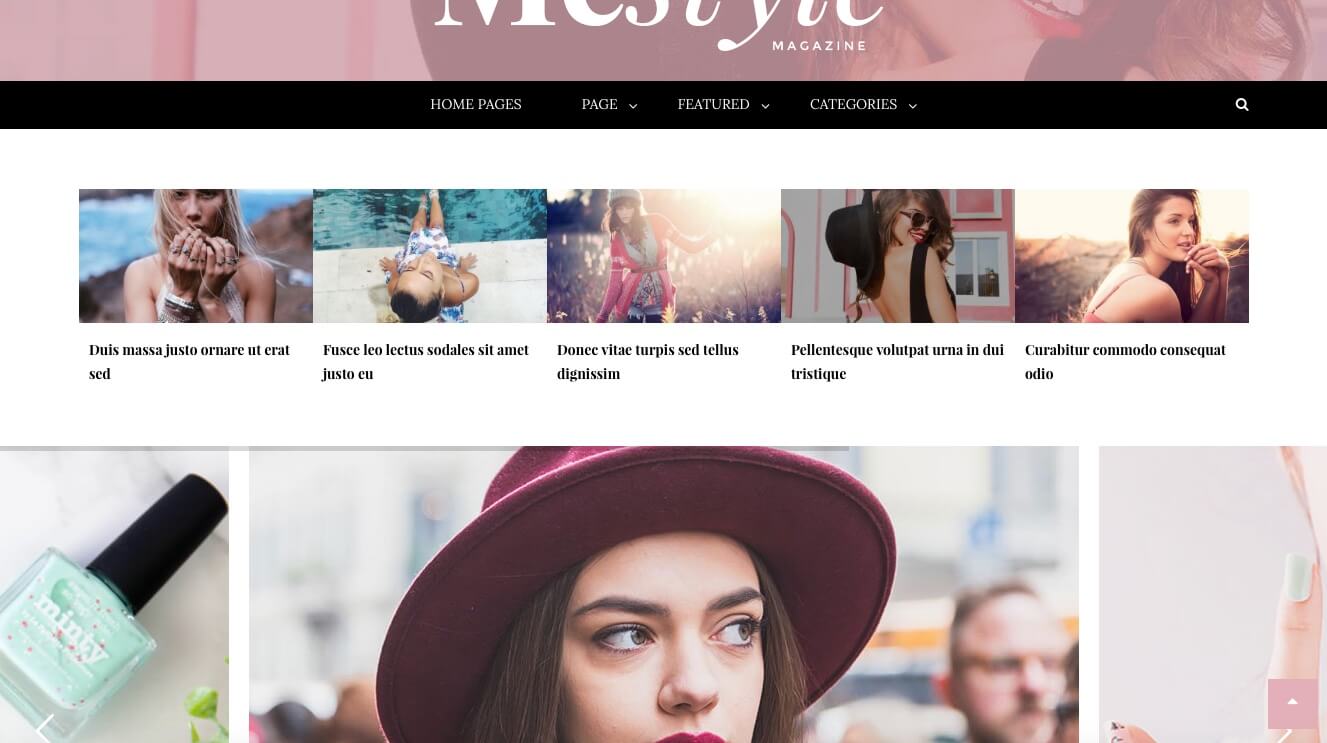 And there you have it! You're almost ready to start writing your first blog post and officially join the blogging community. In my next post I'll talk about how you find topics to write about and make them easy to find on Google by using SEO (search engine optimization) strategies.
Until next time leave your questions below!
If you haven't started your blog yet, need I say more? Click here to get started! I've even got special pricing for you guys to start your blogs super cheap!
Active and aspiring bloggers join my private mastermind group on Facebook for daily tips, articles and support from fellow bloggers/influencers!